Array type
The phased array ultrasonic probe / ultrasonic transducer for aperture synthesis with multi elements
Ultrasonic Array Transducer
We produce 1-3 composite elements with high sensitivity characteristics, and transducers are also suitable for various kinds of experiments and research purposes.
Linear Array type "KYOKUTAN"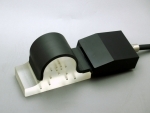 Flexible fitting to any curved surface!Bending!Broadband & High sensitive!
Ultrasonic array probe / transducer "KYOKUTAN" is available for inspection and measurement to any shape specimen.
It is possible to inspect and measure to any curvature being difficult inspection such as curved/gap/uneven part.