Array type
The phased array ultrasonic probe / ultrasonic transducer for aperture synthesis with multi elements
Ultrasonic Array Transducer
We produce 1-3 composite elements with high sensitivity characteristics, and transducers are also suitable for various kinds of experiments and research purposes.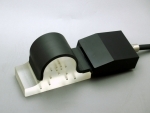 Flexible fitting to any curved surface!Bending!Broadband & High sensitive!
Ultrasonic array probe / transducer "KYOKUTAN" is available for inspection and measurement to any shape specimen.
It is possible to inspect and measure to any curvature being difficult inspection such as curved/gap/uneven part.


Fit like Octopus! Excellent cost performance! It can be used in many different fields!

We can detect and measure the objects by pressing on to the curved surface just like an "Octopus".

It allows you to realize the detection of flat, curved surface, concave-convex parts with just one flexible transducer.